Cross Sectioning Philippines
We supply quality Cross Sectioning machines, equipment & consumables in the Philippines.
Call +63-2-88506182
What is Cross Sectioning?
Cross Sectioning of a sample starts with a quality cut. The proper equipment with a firm and stable vising minimizes the depth of deformation on the sample surface. The abrasive and precision saws save time by limiting the number of steps needed to analyze samples after sectioning.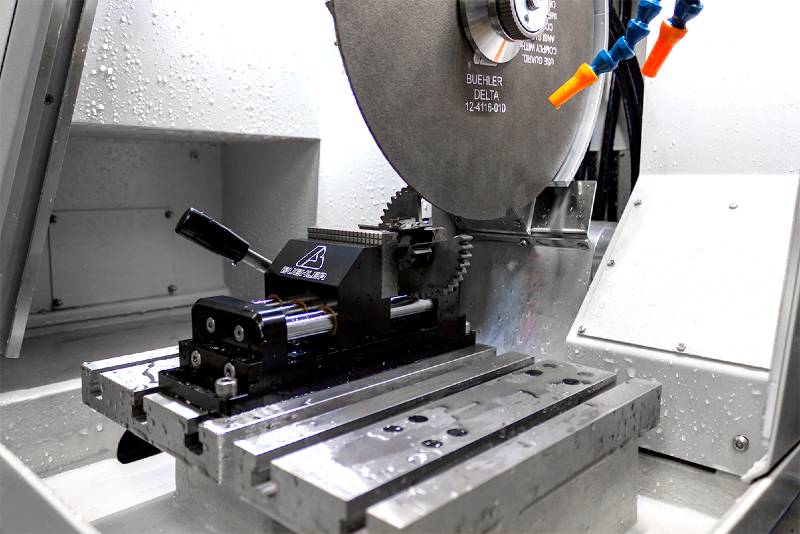 Cross Sectioning Application
Buehler's full range of abrasive and precision saws, blades, vises for cutting any material.
Abrasive Cutting – Provides consistent and repeatable cut for larger diameter samples
Precision Cutting – Sectioning tools capable of cutting virtually any material including metals, composites, cement, laminates, plastics, electronic devices and biomaterials with minimal deformation
Thin Sectioning – offers a complete solution for the preparation of thin sections, bulk mounts, or as a powder such as mineral tailings. Each preparation method is dependent on the type of material and the examination method and starts with proper sample sectioning and mounting.
Cross Sectioning Products
Sample Cutting Machines:
Abrasive Cutters – Buehler Abrasive Automatic Cutters allow repeatable and consistent cuts with automatic cutting. They are able to cut samples quickly without compromising cut quality with minimal area contact methods.
Precision Cutters – Buehler IsoMet product family is capable of cutting with precision via a gravity-fed or automatic movement. The IsoMet family provides great versatility in holding all types of sample shapes and configurations.
Thin Sectioning System – The PetroThin Thin Sectioning System is a precise, easy-to-use instrument for re-sectioning and thinning a wide variety of samples, such as rocks and minerals, ceramics, concrete, bone, and teeth for performing materials characterization.
Sectioning Consumables:
Consumables – Buehler's blades and coolants provide high-quality sectioning results with no burning and minimal surface deformation.
Check Our Cross Sectioning Equipment & Consumables, Request For Quote Today!