Sample Preparation Philippines
We supply quality Sample Preparation machines, equipments & consumables in the Philippines.
Call +63-2-88506182
What is a Sample Preparation?
Sample Preparation is the systematic removal of unrepresentative features to reveal a cross-sectional view of the microstructure at a selected plane. Sample Preparation flow includes Sectioning, Mounting, Grinding, and Polishing.
Buehler is a premier manufacturer of scientific equipment and supplies for use in sample preparation and materials analysis.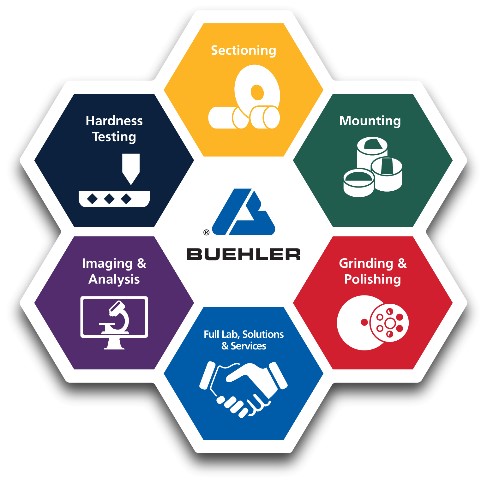 Sample Preparation Application
Supplying equipment and consumables for cross-sectional material testing.  Buehler's sectioning, mounting, grinding and polishing equipment along with consumables provides solutions for:
Quality Control
Production Control
R & D
Failure Analysis
Education
They are all designed and manufactured by Buehler to ensure the highest quality and reliability for your laboratory.
Industry applications include:
Electronics & Semiconductor – Electronic Components analysis, PCB Component Verification, Sensors & Components, Interconnect & Wiring Looms
Automotive – Suspensions & Steering Components, Case-Hardened Crankshafts, Connectors, Fasteners, Welded Structures, Gears, Infrared Line Sensors, Composite Materials, Paints & Coatings, Batteries, Spark Plugs
Aerospace – Turbine Blades, Fasteners, Aircraft Structure, Spray & Fusion, Advanced Composites, Additive Manufactured Components
Primary Metals – Steel, Titanium, Aluminum, Castings & Forging, Welded Components & Weld Integrity, Composites, Ceramics, Additive Materials
Energy / Mining – Mining & Mineralogy, Solar, Tubing, Pipes, & Support Structures, Steam Chests & High-Pressure Vessels, Composite Materials
Education / R&D – Advanced Ceramics, New Alloys, Composite Materials, Thin Films & Coatings, Coatings, Metallics
Medical / Healthcare – Instrumentation, Fasteners, Catheters & Valves, Microelectronics, Micro-Welding, Artificial Joints, Dental, Bone, Implants
Sample Preparation Products
Check Our Sample Preparation Products, Request For Quote Today!