Probably The Best Stereo Microscope in the Philippines
What is Stereo Microscope?
Stereo microscopes are optical microscope variants designed for low magnification observation of samples.
They have often nicknamed the "workhorse" of the lab or production site. You have the option to select from a diverse array of products that will suit your need, and with a comprehensive range of accessories, adapt your microscope to your specific application.
Why Leica Stereo Microscope?
Choose Leica S9 Stereo microscopes and discover how simple and reliable microscopy can be while helping to improve workflow.
You will have complete peace of mind with the branded Leica Stereo Microscope in terms of quality and services and alignment to industry standards.
Leica Stereo Microscope is one of the best Stereo Microscope in the Market that you can't be wrong with it.
Available in different versions for diverse needs the Leica S9 stereo microscopes boost efficiency and optimize optical inspections in your production line or Quality Control division.
Feature outstanding optical quality and FusionOptics Technology for three times greater depth of Field
Large Field of view – find the area of interest fast
Large working distance – fast and easy sample manipulation
Instant image sharing-fast, digital documentation
Applicable to Electronics and Semiconductor, Automotive, Food, Energy and Mining, Metals, and Machine Engineering industries.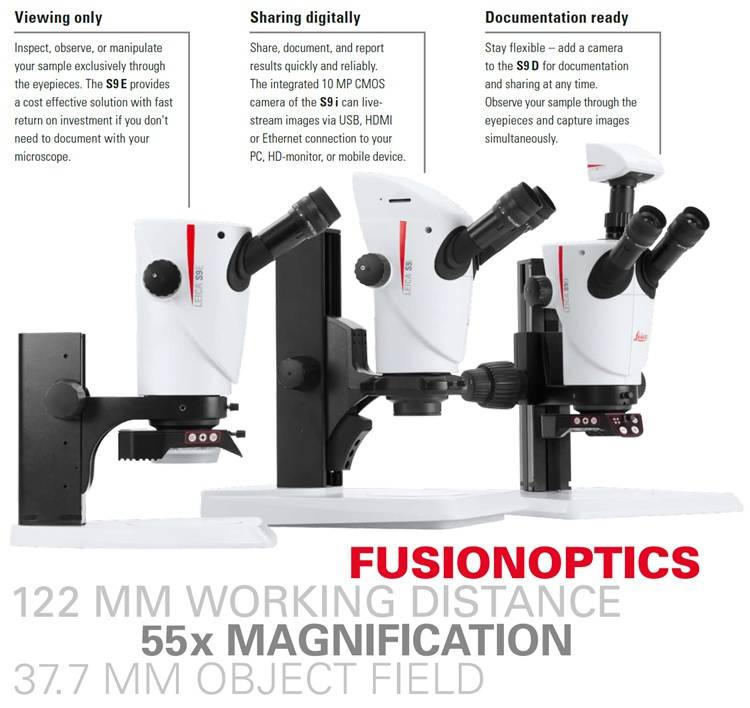 Why Choose Us For Stereo Microscope?
We are the authorized distributor of all Leica Microscopes in the Philippines. Our Sales Engineers and representatives were trained and they will be able to provide insights and information on the Leica Microscope products that suit your business.
Check out our latest Leica S9 models of Stereo Microscope.
Our Sales and Application teams are ready to assist you! Call +63-2-88506182 to find out more!